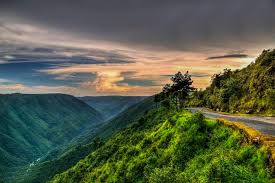 Morning after breakfast depart for a whole day excursion to Mawlynnong:
Mawlynnong Village has earned the distinction of being the cleanest village in India. It is situated 90 kms from Shillong and besides the picturesque village, offers many interesting sights such as the living root bridge and another strange natural phenomenon of a boulder balancing on another rock.
Mawlynnong nestled in the pristine hill state of Meghalaya, is along the Indo-Bangla border. This cute and colorful little village is known for its cleanliness. The main occupation of the villagers is agriculture. They mostly grow betel nut. About 82 households live in Mawlynnong. Keeping the surrounding environment clean is an age old tradition. Discover India magazine declared the village as the cleanest in Asia in 2003.
A dustbin made out of bamboo is found all along the village. Everyone makes it a point that dirt and waste are not thrown everywhere. All the waste from the dustbin is collected and kept in a pit, which the villagers use as manure. The villagers are now on a mission to ban plastic. The village with cent per cent literacy is conscious and they are spreading the message of conservation and protection of the forest. Locals plant trees to ensure that the virgin forest is kept intact and also replenished.
Mawlynnong's fame is now drawing an endless stream of guests from across the country and abroad. Although residential facilities are still scarce and are in the process of being developed, the existing one constructed from bamboo and thatch is quite hospitable and restful. Mawlynnong is an artist's delight and the sort of getaway that would titillate creative writers and poets..
Dawki: A day's excursion from Mawlynnong, Dawki lies but 2 Kms from Bangladesh. Despite the fact that the area is located in a place that has been for years demanding development, one is amazed by the quality of the roads, and the road to Dawki perhaps epitomizes the idyllic hill drive. The black metalled road, offset by the rich, wet green and dark red-brown patches offered a smooth contrast that technology can scarcely capture. The cool, wet air brushes over your face and refreshes and revitalizes you as it enters your body. Dawki is a small village and its main attraction is the Umngot River that marks the natural separation between the Khasi and the Jaintia Hills. The river can be forded by a suspension bridge that connects India to Bangladesh and facilitates trade between the two nations. The Umngot is the site for a boat race that is held in March-April, but even otherwise, seeing this large emerald-green serpent threading its way through the hills, with fishermen's boats dotting its surface, right into the plains of Bangladesh, is a sight whose majesty echoes long after you leave it. (Lunch and Dinner at your cost)
Later return to Cherrapunjee.
Overnight at hotel.