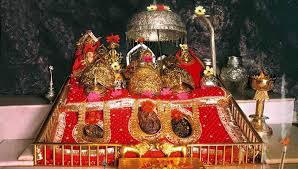 Nestled in the three-peaked Trukuta Mountain in Jammu and Kashmir, the cave temple of Mata Vaishno Devi is revered as one of the holiest Hindu pilgrimage sites in the world. Situated at an altitude of 5200 feet, the holy shrine of Mata Vaishno Devi is thronged by millions of people across the globe every year. It is believed that during the aarti, Goddesses arrive at the cave temple to pay their respect to Vaishno Devi, who is endearingly known as Mata Rani (Goddess Durga).

The trek to the shrine

The holy shrine which is among one of the 108 Shakti Peetha, involves a strenuous trek of around 12-14km from the base camp at Katra in Jammu. It takes about 6-9 hours to reach to the Bhawan depending on the weather and pace. The entire route is dotted with many shops sells souvenirs, foods, beverages at regular intervals. Devotees also have the option to climb the stairs leading to Bhawan, which is a steep but shorter route.

However, the trekking may be difficult for children, elderly people and those who have medical conditions. For such devotees, there are different modes of transportation available to reach the Bhawan, including palanquins, ponies, palanquins, battery car and helicopter. The recently introduced helicopter services are available up to Sanjichhat – 9.5 km from Katra. Before commencing your trek to Bhawan, you will need to register yourself for the Yatra. The registration process can be done at Yatra Registration Counter at Katra and you do not need to pay for the same.

The trek from Katra to Bhawan will take you through many holy spots include Darshani Darwaaza, Ban Ganga, Charan Paduka, Indraprastha, Adhkuwari, Himkoti, Haathi Matha, Sanjichhat Bhawan and Bhairon Mandir. The mid pint of this trek is Adhkuwari, which has been developed as a resting point and helipad. Taking up this auspicious journey to Mata Vaishno Devi temple is it only be physically demanding but it also requires you to make several arrangements and prior bookings which may create a lot of hassles while planning this trip with family or large group.

To curate memories of a lifetime without hassling yourself, book Katra Mata Vaishno Devi darshan package from a reputed tour operator who can provide you with all the necessary arrangements related to transportation, darshan, food, accommodation and medical support. Offering you a wide variety of packages to choose from- luxurious Vaishno Devi temple darshan by helicopters service to affordable weekend trips to the famous shrine and its nearby places, the tour reputed tour operates turn your journey into a hassle-free and captivating experience. As per the duration of your vacation, you can also ask the trip organizing company for the tailor-made package as per your requirement and include nearby popular destinations such as Patnitop, Shiv Khori, Dera Baba Banda etc your itinerary. Book tour package from a reputed provider and choose your stay, mode of transport and sightseeing as per your preference & comfort.

Select a Vaishno Devi tour package online and embark on the auspicious journey of your lifetime!