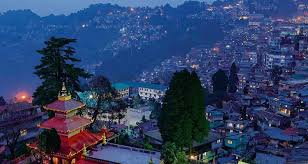 Today after relaxed Breakfast, Enjoy Toy Train of Darjeeling (On your own cost). The Toy Train operates on narrow gauge tracks since 1880s and providing an important transport link to various parts of Darjeeling hills and lower plains, the toy train is an icon of our heritage since the colonial days and an engineering marvel that was achieved in that era. It also offers a wonderful way of absorbing the Himalayan beauty as you traverse along the slopes of the hills.
Where else can you find a small steam engine pulling mini coaches up the steep mountains through breathtaking landscapes and overcoming almost impossible curves and gradients using sheer engineering ingenuity and creative skills. The snail pace at which the train moves through the hilly terrain is at times so slow that you can often see the local school children hopping on and off the train on the move. (Lunch on your own at hotel or restaurant)
Post lunch enjoy Darjeeling Ropeway (On your own cost).. One of the best ways to experience the panoramic views that Darjeeling is so famous for, is by taking a ride on the ropeway. It's also called the Rangeet Valley Passenger Cable Car because of the spectacular view of the valley around the river Little Rangeet. You will need to board the cable car from Singamari which is 3kms (i.e. 1.8 miles) away from Darjeeling Chowk Bazaar. As you ride the cable car, in about 45 minutes you will travel from an altitude of about 7,000 ft. (or 2134m) down to 800 ft. (or 244m) where the last station Singla Bazar is located. However presently the ride has been shortened to a station called Tukvar from where the Gondolas return. Evening is free at rest at leisure or for shopping in Darjeeling.
(Dinner at hotel if MAP Plan taken)
Overnight at Hotel in Darjeeling.