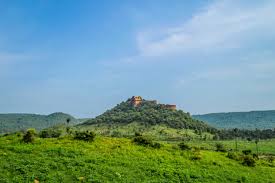 Today Early Morning Get a Wakeup Call At 0500 am and Get Ready for Morning Safari to Get More Chances to Encounter with Tiger and other Animals, Finallywe Take a Visit to Pandupole Templeof Lord Hanuman: this Temple is Very Famous in Sariska, Located Inside the Sariska National Park. for this Temple, There are Many Myth Stories. According to History, Here Pandavas Had Spent Some Days During Their Exile and Built this Temple to Lord Hanuman. Apart from Stories, this Temple is the Most Crowded Temple in Sariska Wildlife Region.the Major Attraction of this Temple is the Large Idol Structure of Lord Hanuman. Here You Can See Different Types of Monkeys like Langurs and Macaques. Hanuman Temple is also a Must-visit Place in Sariska. Back to Hotel By 10:00 am for Breakfast and Later After Some Rest We Proceed to Siliserh Lake &bhangarh Ruins:
siliserh Lake is a Serene and Beautiful Artificial Lake Commissioned By Maharaja Vinay Singh. this Lake in Sariska is the Major Tourist Attraction Point. Here the Natural Attractions of the Lake Attract Every Attention Towards It. Siliserh Lake is Very Close to the Sariska National Park That's Why the Glory and Charm of the Lake Get Double.the Major Attraction of this Lake is Sariska Palace On a Small Hillock. Once this Palace Was a Hunting Lodge to Royal Families But Now this Palace Was Converted Into a Heritage Hotel. Due to Close to the National Park, Here You Can See Crocodiles, Snakes, and Birds Etc. However, After Enjoying all the Attractions of the Lake Don't Forget to Go for a Boat Ride On the Lake.
bhangarh Fort Ruins is a Haunted Place Very Close to Sariska. for Thrillers, this Place is the Best One to Experience. in the Whole of Asia, this Fort Was Recognized as the Most Haunted Place. such a Dangerous and Creepy Area. this Fort Was An Evidence of Beautiful Architectural Styles of Mughals and this Fort Was Built By Madho Singh.
if You Go to Town and Ask the Story of this Fort Means Locals Will Explain Different Stories. But the Most Relevant and More Times Heard Story of this Fort is a Black Magician of this Town Wanted the Queen to Make His Own with His Wicked Tricks. But the Queen Got Known and Killed Him. that Magician Cursed the Place. this is the Story Behind the Fort.
an Important Note of this Fort is After Sunset No One Will Be Allowed to this Fort. Even Asi (archaeological Survey of India) Strictly Prohibited this Area Not to Allow After 6 Pm.
evening Back to Hotel and Day At Rest or Leisure or to Enjoy Recreational Facilities Available At Hotel/resort. Dinner At Hotel/resort
overnight Stay At Wildlife Resort.